Here is the Much Requested Snow Trooper Corpse. In order to Justify making this Custom I had to think up a Back Story.
This Poor Trooper was in the Troop Hold of one of Genral Veer's AT-AT Walkers during the Assault on Echo Base. During the March towards the Shield Generators a Rebel Terrorist Cut into his Walker with a Light-Saber and tossed in a Thermal Detonator into the Hold. The Trooper Scrmabled to Grab the Detonator and Toss it out before it exploded but he was not fast enough. He and the rest of his Company were incenerated by the Blast. To add insult to injury, once his Body was exposed to the Fridged Hoth Climate he was quickly flash frozen.
After the Assault the Empire Quickly Pulled out of the System to Chase down the Remaining Rebel Terrorist, leaving their fallen Comrades Behind. Soon Carnavours began to Scavenge the Battle Field. The Trooper's Body was Dragged off by a Wampa as a Gift for his Mate. So' Here he is LMk what you think.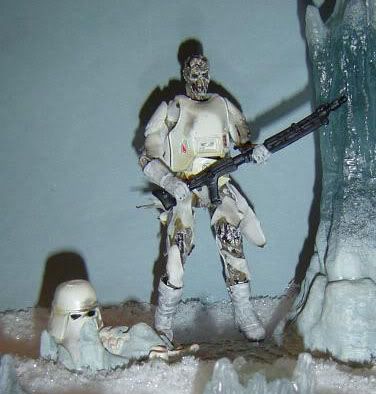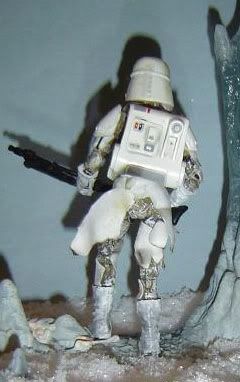 Fritzkrieg